I'll get right to the point.
According to SamKnows, there are 5564 ADSL enabled exchanges in the UK. Only 2762 of them are enabled with BT's ADSL2+. This means that around half of all UK exchanges have no access to ADSL2+. They are stuck with ADSL1, a technology fast approaching obsolescence. Whilst population coverage of ADSL2+ is around the 90% mark I believe(?), customers living in rural areas already with the least choice and lowest speeds are getting further screwed due to the lack of investment.
Why does ADSL2+ matter? There are a few reasons, listed in this comparison table (note, speeds are BT's caps, not theoretical maximum):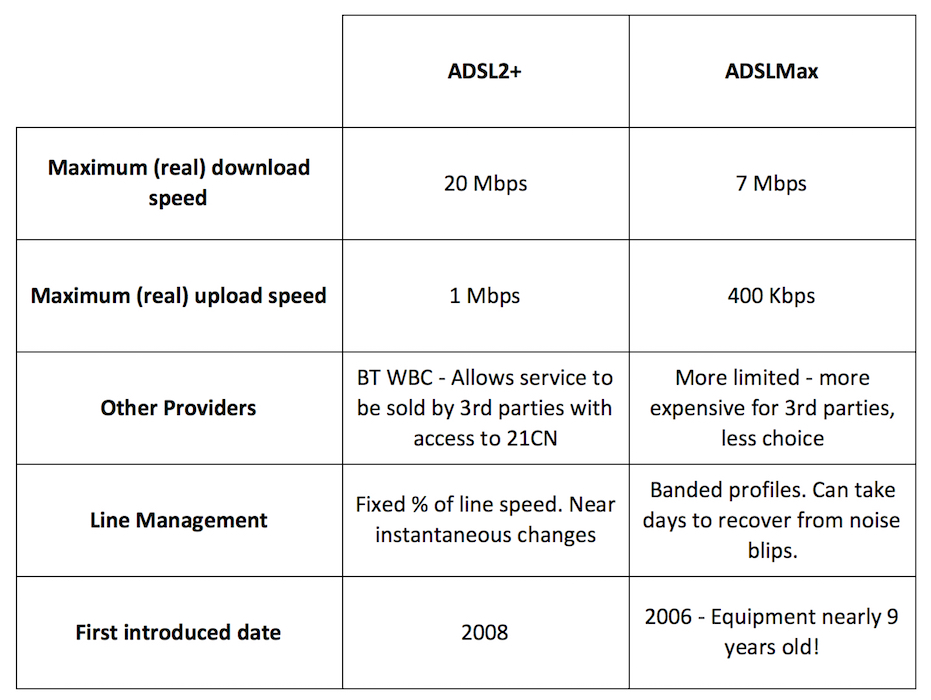 Of course, many people (including BT of course) would argue "what's the point" of deploying 100% national ADSL2+ coverage when they are already aiming for 90% VDSL coverage, followed by 95% soon after. The problem lies in the final 5%. 5% of the entire country will have no access to superfast broadband, and not only that but they will almost certainly be stuck with ADSL1.
The primary problem
The primary issue with the outdated ADSLMax product is the diabolically slow and ridiculous upload speed cap. Right now, BT could uncap all existing ADSLMax customers stuck on their ADSL1 only exchanges, probably with just a flick of a computer keyboard. Upload speeds could be increased from the paltry 400 kbps to around 800 kbps, a doubling (still very slow by modern standards, but at least something!) which would result in the internet feeling generally quicker. This is already possible with BT's 'premium' ADSLMax product, but you have to pay an additionally monthly fee (for something which the remaining 90% of the country gets for free), and even more amusingly you can't get this option with BT retail (Plusnet and A&A are some of the only ISP's to offer it). All in all, a farcial situation.
In an actual example, loading a single webpage on ADSLMax regularly saturates my upload connection, since TCP requires sending as well as receiving. Even though my download bandwidth isn't being fully utilised, pages load slowly since the upload bandwidth is being saturated and load requests can't get through as quickly as they should. Now add in a few additional laptops, tablets and phones on the connection, and latency skyrockets.
A prime example of the upload crisis is having multiple iOS devices upload things to Photostream, as well as use iCloud Backup. I have had to manually create QoS rules in my router to limit the uploads of iOS devices, otherwise they literally crash the internet.
The cheap solution
It's bad enough not having ADSL2+ available, never mind any form of fibre (and in case you wondered, my cabinet was skipped in the BDUK process, looks like I'm in the final 5%), but to add to further frustration, BT are actively slowing down rural connections that could otherwise make use of higher upload speeds. They don't even need to upgrade to ADSL2+ equipment (they should've done that years ago…) instead, they need to scrap the premium service and give everyone the 800 kbps upload speeds. Whilst not all lines would make use of it, a great number of them would see some benefit. It would be an easy interim measure that could be done with literally no spending required. If it results in some peak-time upload congestion, I can live with that. At least most of the time I would get 2x the upload speed that I currently get.
Long term
The real question is, what of ADSLMax and IPStream? With 1000's of exchanges still using it, what are BT's plans for migration? In terms of competition, I assume BT have to continue to offer ADSL in fully FTTC areas since not all providers actually support FTTC yet. What happens when the (now ancient) ADSLMax equipment becomes EoL or just unobtainable? Maybe they still manufacture it now (lol…) but in 5 years time? 10 years? ADSL2+ seems the obvious solution for keeping ADSL around, but VDSL is (rightly) BT's aim at the moment. The core issue is that VDSL is the not the 'standard' service, it is actually marketed as a premium offering. BT still offer plain ADSL from the exchange. In 10 years time will this still be ADSL1, or will ADSL be totally discontinued and FTTC the 'standard' broadband offering?
There are many questions and really not many answers. Sadly all the hype is around BDUK and the FTTC rollout, but for those of us still waiting, it just feels as if any existing ADSL infrastructure improvements have been all but abandoned.