We've been waiting well over 10 years for a decent internet connection in Spain. Some of my previous posts dealt with how bad the ADSL was, with speeds no higher than 3Mbps (on a good day), regular dropouts and sky-high latency.
We investigated a whole host of solutions: Fixed wireless, satellite, and more recently 4G. The 4G connection looked promising, but would've proved to be very expensive, given the limited data caps available.
Earlier this year, to our massive surprise, Movistar's online checker showed that all of a sudden we were able to get Fiber Optic (Fibra Óptica) down our very rural road. Whilst the nearby village had fiber installed, I didn't think they would bother to go into the more rural areas. Apparently I was wrong!
The Movistar technicians came to install our new service – it took a couple of months from order to delivery, since apparently they needed to run a further cable from one of the junction boxes down the road in order to actually reach our property, which had to be done by a different group of technicians.
The first obvious thing that makes this different from ADSL is you get a new 'Fiber Optic termination' box, with the black cable being the Fiber coming into your property directly from outside, and then this will be internally fused to a smaller cable inside which goes to the connector on the lower right side of the box.
The second component, which surprised me slightly, is a sort of 'ONT'/Fiber modem, which seemingly converts the Fiber Connection into an Ethernet one.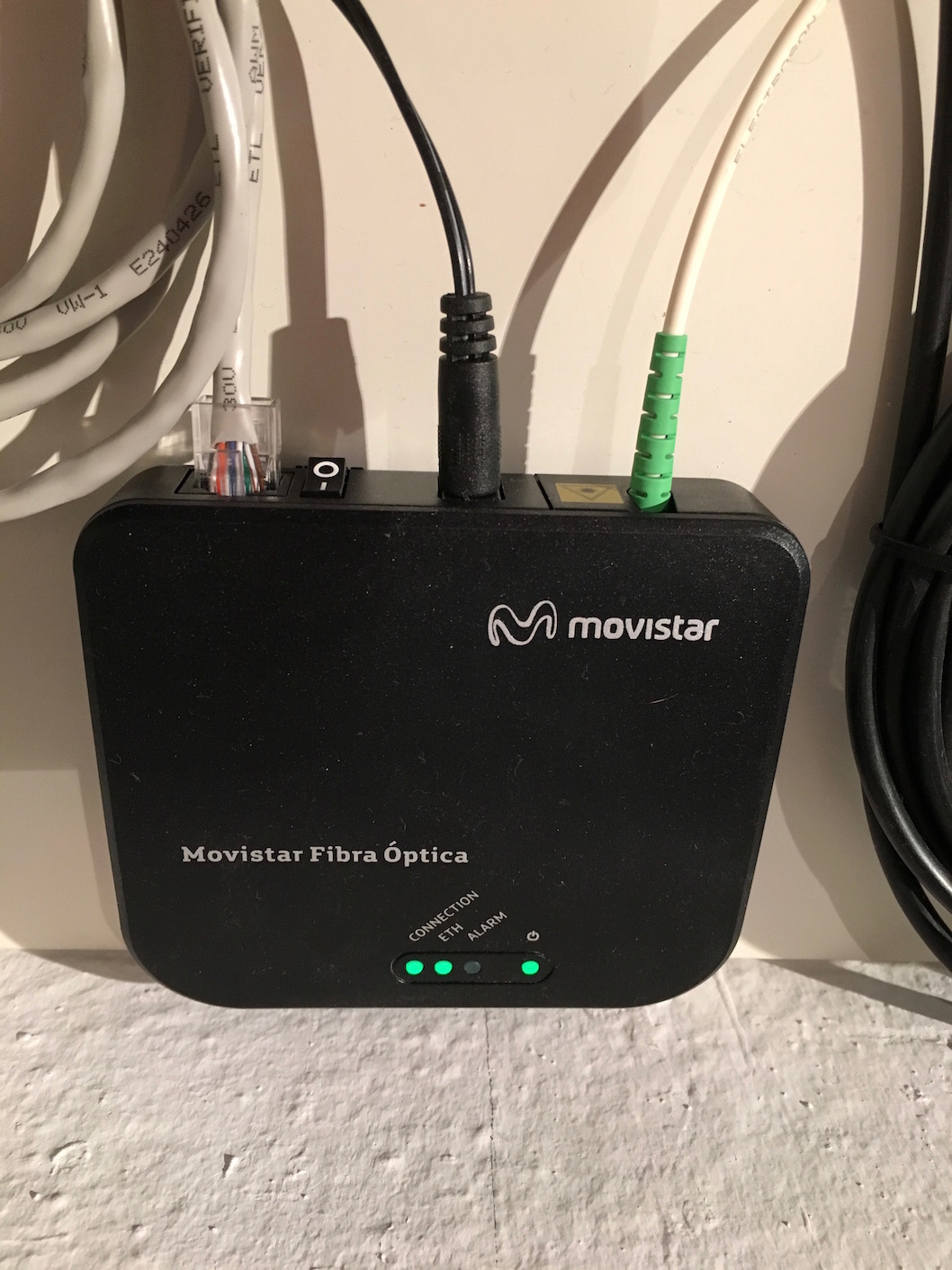 The output from the Ethernet connection cannot be used directly by plugging it into a computer (unless you set it up to connect as a PPPoE connection), since at this point you have not logged onto the network, and thus will not obtain any IP address. I must admit, I did expect that in 2016 they would've developed a single box solution (combined Fiber modem and router), but maybe there are technical or cost reasons for not doing this. It does mean however you need an extra power socket, and ethernet cable, as well as the box taking up additional space.
The final component is the wireless router, which has a single gigabit WAN port and 4 gigabit LAN ports, as well as power, and a PSTN phone connection – allowing you to connect a telephone into the socket, and it behaves the same as a traditional one delivered over copper wires. You also get a phone number assigned to that port, the same you would get if you had a copper line.
Now, on to the speed testing, as always!
This particular test was actually done on my iPhone, since my laptop doesn't have fast enough wi-fi, and I couldn't test with ethernet. The download and upload speeds are both in excess of the quoted amounts – a rarity for most internet connections! The latency is also very good, though not perfect. However, this was tested over 802.11ac wifi on a clear 5Ghz channel, using a 3rd party wireless access point. As you'll see below, the supplied Movistar router leaves a lot to be desired.
Sadly, the supplied Movistar router is really, really bad at wireless. It is a 2.4Ghz only, 2 stream, 802.11n access point. Something you'd expect to find in a cheaper device 5 years ago, and certainly not expected when provided with a fiber optic connection. For many people, this will be their primary wireless router, and the fact it only achieves 1/3rd of the internet connection speed is frankly embarrassing. They could've at least offered a dual-band option, or 3 spatial streams, but it seems this router was designed with VDSL speeds in mind rather than fiber. So I strongly recommend obtaining any decent 802.11ac access point and plug it into the ethernet ports, if you want to achieve the maximum speeds. Most modern wi-fi cards, even if they only accept 802.11n, will make use of the additional bandwidth in the 5Ghz spectrum to achieve higher speeds, even if they are only 2×2 MIMO. And modern devices, such as the new iPhones, can easily make use of 802.11ac to achieve the 300Mbps speeds that this internet connection provides.
Overall, however, I am very impressed at the service speeds. And I can now truly say that we are the owners of an 'ultrafast' internet connection. Hopefully soon to also be the owners of a Gigaclear connection in the UK – hopefully! More on that once I eventually get it…