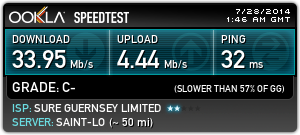 Another late night Speedtest. Upload speeds are very consistent, approaching the advertised 5 Mbps. However download speeds still appear to be lower than the full 40 Mbps, the maximum actual throughput is more like 34 Mbps on a fully synced line.
Interestingly, and this could be a bug, Speedtest.net says this connection is "Slower than 57% of GG". How this is possible, I don't know? I can only assume that the reason is leased line customers with much faster connections doing a lot of testing recently.
On another note, this September we are approaching the 2nd anniversary of Sure's VDSL service launch. Fingers crossed for some sort of upgrade announcement! After all, when LTE launches next year, it wouldn't 'seem' right for their VDSL to offer the same speeds as the 4G mobile network.