After 4 years of Sure's original VDSL product launch, they have finally launched a new home broadband platform, the oddly named 'Superfast Premium Broadband'. It offers headline speeds of 60Mbps download and 10Mbps upload. If you opt for the 'Superfast Premium Pro Broadband' (seriously, who names these?) then you get the same speed but with a static IP and 10:1 contention, which is the same across all of the 'Pro' options.
Here is a speed test done in the evening, with no other devices connected to the network: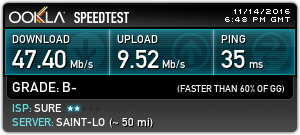 First, the upload speeds are right on target. The download speeds are slightly lower than I expected – I imagined around 50-55 Mbps wouldn't be unreasonable for a 60 Mbps service. After all, on the 40 Mbps service I was getting around 35 Mbps. The maximum transmissions speed I have observed so far is just shy of 50 Mbps when pulling multiple files from different locations. So not slow by any means, but a bit off the advertised figure.
Obviously the usual caveats apply – not least that this test was done during peak time. Also, just to 'prove' it's not the sync speed itself, here is a router screenshot: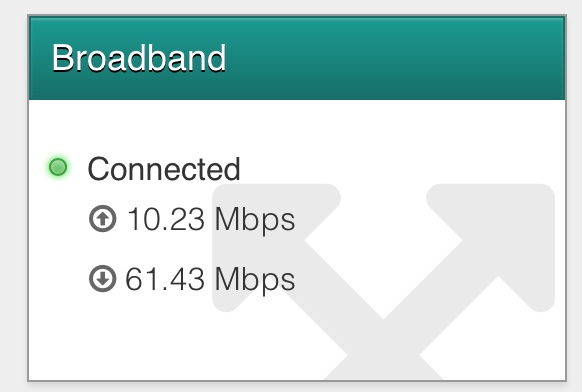 Interestingly, my SNR margins are still not maxed out. I have a 16dB margin on the downstream and a fairly large 27dB margin on the upstream. So basically, my line can still go faster if at some point Sure decided to uncap the service.
Another thing I haven't really talked about is latency. This may be anecdotal, but I've noticed a reduction in latency of around 4-5 ms switching to the new service. This may be the new router vs the old one, or it could be a result of the higher upload speeds reducing the amount of (potential) upload congestion.
Overall a good improvement. It's just a shame very few people will get the maximum speed due to distance constraints, and even fewer will even bother signing up to the service.