The Fastershire project is the government subsidised faster broadband rollout for Gloucestershire & Herefordshire.
I decided to do some investigating as to who might be able to receive the new superfast service in and around the Andoversford telephone exchange area. BT Openreach now make cabinet level data publicly accessible on their website, and cabinet information can also be obtained from their DSL checker website. With these 2 sources of information, it is relatively easy to construct this table: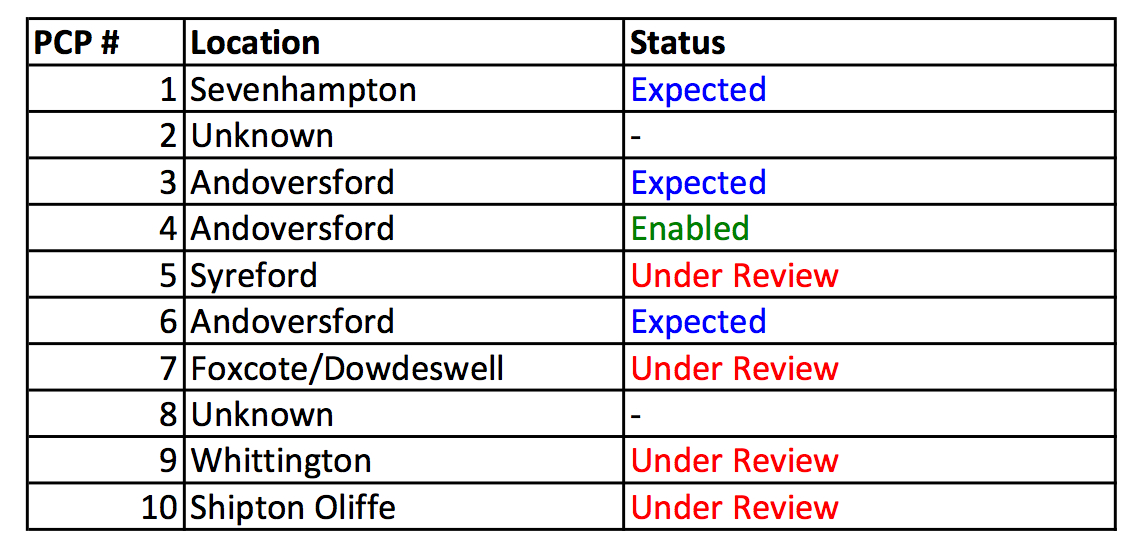 [Disclaimer: Information provided from BT public sources, and could be incorrect!]
Of the 8 cabinets that I could identify (cabinets 2 and 8 either don't exist or I just couldn't find them), 4 of them are expected to get upgraded to Superfast. Of the 4 cabinets to be upgraded, 3 of them are in Andoversford itself. The only 'rural' cabinet is expected to be in Sevenhampton, which looking at the DSL checker is in dire need of faster broadband access.
Of course, it is extremely ambiguous as to what "Under Review" actually means. On BT's website, it states that "We're in your area but we're still assessing whether or not we can upgrade your cabinet."
Let me now provide my interpreted translation for that statement: "We have no idea when your cabinet is going to be upgraded. We've probably already written it off, but we say it's still being reviewed in order to keep your hopes up and deter any other non-BT competition."
There is of course the small chance that some of the Under Review cabs might get upgraded at some point in the future, or even another solution (FTTP?) might be offered. Additionally, 'Under Review' could also mean that the original PCP cab was not suitable to be upgraded and they have to do additional works/checks before they can plan to add a DSLAM to it.
It is somewhat of a shame that the most rural, in need areas of the Andoversford exchange are likely to miss out on Superfast access in this current round of funding. Unless 'Under Review' means something a lot more positive (which I suspect it doesn't), properties just scraping 2Mbps are likely to remain at this speed at least for now.
An interesting find, however, is this image:

Yes, that does indeed say "on Exchange Andoversford" at the top there, and yes, it is stating that WBC ADSL2+ is available at this property. I have not found another single address in the Andoversford exchange area that is enabled for ADSL2+ (Up to 17Mbps compared to the older up to 8Mbps service). It is very odd – it could well be an anomaly in the address checker, or on the other hand, it could be a test property that has been enabled, pending the wider rollout of ADSL2+ to the whole exchange. The VDSL Superfast product, as far as I am aware, runs on 21CN (WBC), so it would make sense that the exchange itself is being upgraded too. However, not all VDSL cabs will link to their parent exchanges – sometimes the backhaul is known to route to alternative locations…
Edit: According to roadworks.org, BT are doing works on 'PCP8' in Shipton Oliffe. I wasn't able to locate any properties connected to cabinet 8, so it could be that Shipton Oliffe properties are in fact going to receive FTTC very soon, not sure why the wholesale checker states PCP10 rather than 8 though… Also, this tallies with the fastershire website coverage map, which shows the area around the village as having fibre access by the end of 2014.